A young woman's first visit to the gynecologist can be daunting.  Women who have already been for a gynecological check-up generally report that it's unpleasant.  So, naturally, this scares others and many avoid going until they have to.  BUT!  I'm here to help quell those fears and insist that all young women go for a check-up.  My first visit to the gynecologist was about as traumatic as possible, but I know that I might not be alive today if I had not gone.  So, it is of the utmost importance that you take your health seriously and face any fear you might have of going to the gynecologist.  Almost every young woman comes out after that first visit and says, "That wasn't as bad as I thought it would be."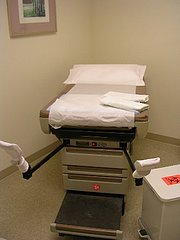 Before your appointment:
Do your research!  If you're reading this blog, you're off to a good start.  Continue on by finding a local gynecologist that you are comfortable visiting.  Many young women who nervous about their first appointment find it easier to visit a female physician.  It will serve you well to talk to friends about who they go to and why.  Also, look into insurance matters.  It can be really confusing, but ask the office staff of your doctor of choice to help you confirm what is or is not covered by insurance–they're experts and can find out what you need to know.
Monitor your period.  This is an important habit to keep up your whole life.  If you've never kept track of your periods before, start right now!  Keep a calendar record of when your periods begin and end and make notes about any irregularities (more pain, heavier flow, etc.).  You'll be expected to know how regular (or irregular) your periods are at the doctor's.
Decide on a day and make the appointment.  Once you known when your "safe times"* are, call the doctor's and make that appointment!  Just making the appointment is half the battle–the next half is keeping the appointment.  You can do it!
* Many gynecologists will not perform an exam when a woman is menstruating since the blood may obscure their view of the vaginal structures–they look for any abnormalities that are visible to the naked eye.
The day of your appointment:
Shower!  Or bathe!  Just get clean somehow.  Doctors encounter enough unpleasantness throughout a working day–they will thank you for not adding to it.
Try to stay as calm as possible.  Being nervous and jumpy will make the appointment even more lousy.  Take deep breaths, listen to calming music, think happy thoughts.  It might be a good idea to take a friend with you if you're really nervous.
Get to your appointment on time!  Most doctors' offices will give a recommendation of how early you should arrive.  Follow it.  If you have a bit of time to spare, you might even show up earlier than that.
Almost across the board, a gynecological appointment requires the patient to provide a urine sample.  So, about an hour or so before your appointment start sipping on water (or your beverage of choice).  They will collect the sample before your actual appointment with the doctor begins and you'll want to have something in your bladder to give.
Be prepared to answer questions!  Each doctor's office will ask a different set of questions, but here are some of the most common ones:  When was the first day of your last period (menses/menstruation/etc.)?  What medications are you taking?  (Don't forget non-prescriptions like vitamins!)  Have you been experiencing any problems, pain, or irregularities?  Do you have a family history of cancer . . . anything?  Are you sexually active?  (BE HONEST!  If you're nervous about a parent finding out, don't be.  Doctors, by law, have to respect your confidentiality.)
Wear clothes that are easy to remove.  Wearing clothes with lots of buttons and buckles and so on are a rookie mistake.  You'll be glad to have a shift dress or sweatpants or what-have-you when they only give you 90 seconds to disrobe!  You might have more time than this, but more often than not I have been given very little time to climb out of my clothes and into the paper clothes.  (Also, wear nice socks.  You'll want something warm on your feet when you rest of you is clothed in paper.  Your feet will be in the doctor's face for much of the appointment, so pick nice ones.
---
The is just the first half of the guide!  Part Two will be published soon.  As always, feel free to add any comments, recommendations, or questions.